Insulators are devices used to stop the flow of electricity. Their working principle is resistivity. The primary purpose of insulators is to prevent conductors from being damaged in case of accidental short circuits. They are used for the protection of electronic devices. The short circuits and contact of electronic conductors may cause massive damage or can destroy many things in their surroundings. Insulators are used because they isolate the conductors and save electric types of equipment from expected damage. Suspension-type insulators are also types of insulators. These insulators play an essential role in electric power supply. Suspension-type insulators are used at higher voltage places like Towers.
Construction Of Suspension Type Insulators:
In the suspension type of insulator, a string is formed by connecting the insulator parts in series with the help of metallic links. These insulators are mainly constructed in two parts insulator and the other one is a cross arm. The insulator used for constructing suspension insulators is known as a disc insulator. This string is formed by connecting one or more than one part of insulators in a series connected with the supporting structure like a tower. In the case of the tower, they are connected with its cross arm. The conductor is connected to the lowest part of the string.
Due to their structure or construction, such insulators are also called string-type insulators. The top end of the swing insulator is connected with the supporting structure or Tower's cross arm. On the other hand, the bottom is fixed with the conductor. As we know, porcelain is the essential construction component of an insulator and is widely used in insulator formation, so it is also used in suspension-type insulators. It is used in different shapes for different formatting insulators. At the same time, in the construction of suspension-type insulators, the porcelain disc is used and specially designed to work at 11 VK.
If you want to increase the voltage used for the operating system, then you have to increase the number of porcelain discs used in this suspension or string-type insulator. Increasing the number of discs in suspension insulators is easy, so this insulator is readily usable for higher operating voltages. For instance, if you want to use a suspension-type insulator for 130 to VK operating voltage of the transmission line, then you have to increase the number of discs to 12 connected in a series combination. Suspension insulators are specially designed for operating higher voltage on transmission lines.
Suspension Insulator's Function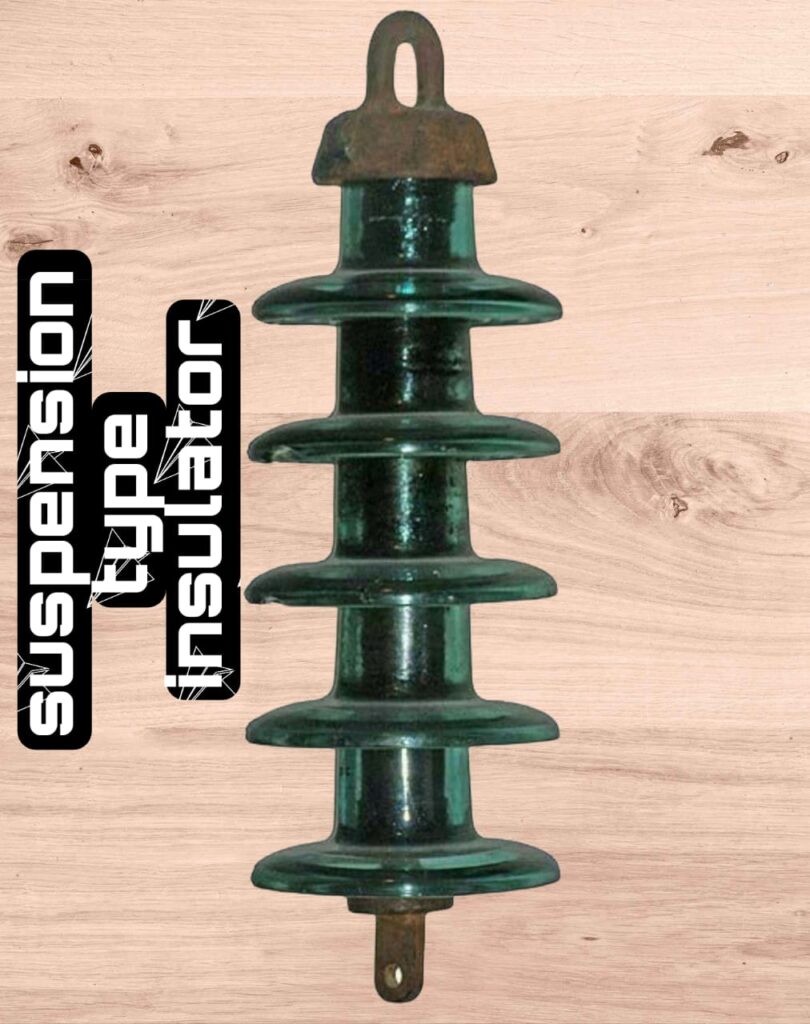 Suspension-type insulators support higher voltage transmission lines on the towers. These insulators maintain the connection and distance between the transmission line and Tower. These suspension-type insulators are used for separating the tower and transmission line. In the safe electricity supply, these insulators play a fundamental role. The configuration in which suspension-type insulators are used depends on the consumption of electricity in the environment and the voltage transmission.
Advantages Of Using Suspension Type Insulators:
Although there are different types of insulators with specific properties, a few types of insulators are commonly used; suspension-type insulators are also one of them. You can use them in different applications and for many purposes due to their more benefits than the other insulators. They have some specific benefits or properties on which they become superior to others. A few of their properties, benefits or advantages on which basis suspension-type insulators are considered much better than others are listed below:
One of the significant benefits of suspension-type insulators is if we have high voltage over electricity transmission lines. In that case, they are economically better than all other competitive insulators.
Each insulating disc is specially designed for handling 11KV power in suspension-type insulators. Usually, a string of insulators or twisted insulators is used for handling average operating voltage. For example, if we talk about the transmission line of 66 VK, we can say that six insulating discs are required for it.
Another benefit of a suspension-type insulator is that if one component of this insulator is damaged for any reason or unable to perform or act normally, we can change only that point or disc instead of changing all the insulators. In suspension-type insulators, discs are attached or connected in series. In case of any problem, you can change the defective part without trouble rather than changing the whole discs connected in series.
Suspension-type insulators are more flexible than other insulators as the tension between the string and the disk is less than in other insulators, so we can say that they are much easier to move than others.
The conducting wires or materials are always at a lower height than the Tower's height. It is because the conducting wires which carry the current are hung with towers with the help of suspension-type insulators connected in suspension series. By doing so, these conducting wires are protected from short circuits.
Do Suspension Insulators Have Any Disadvantages?
It's a fact that everything has some demerits or disadvantages along with numerous benefits. So If we talk about suspension insulators, we come to know that although they are much more beneficial, they also have some disadvantages. The disadvantages of suspension-type insulators are mentioned below:
Suspension-type insulators are a bit more costly than pin or post-type insulators. But for higher operating voltages, they are more expensive than the other insulator types like strain types insulators, Shackle type insulators, Pin type insulators.
Suspension-type insulators are useable for high-voltage transmission only. That's why they required the sporting structure to have more height than the sporting structure required for other insulators. The primary purpose of higher-level sporting structures is to keep the current carrying wires or conductors safe.
They are not applicable or not used for short-range or less voltage transmission. That's why the suspension insulators can be suspended with lower sporting structures.
In the systems in which suspension-type insulators are used, the distance between conductors should be more than the distance between conductors for those systems in which other insulators are used.
In suspension-type insulator systems, the conductor's free swing amplitude is much larger than in other insulator systems.
Where Can We Use Suspension Type Insulators?
Due to their benefits, these insulators are used for many applications, but these suspension-type insulators can only be used in places of High Voltage requirements. Some of the applications of suspension-type insulators are given below:
Suspension-type insulators are used in electric motors.
These insulators are also used in generators.
Another application of suspension-type insulators is railway lines.
Suspension-type insulators are also used in electric poles.
They are also used in Transformers.
These are the only few applications of suspension-type insulators. Except for this, there are many other uses for these insulators.
Classification Of Suspension Type Insulator:
Two main suspension insulators types are:
Hewlett aur interlink type.
Cap and pin type
This classification is based on their construction and performance. Detailed information about the types of suspension insulators is given below.
Hewlett Or Interlink Type Insulators:
Porcelain has two curved channels for constructing Hewlett or interlink-type insulators. Their placement is set so that the angle between these two channels is 90 degrees to the plane. For joining this unit, curved steel links are used. These curved steel links are of U shape. These curved steel links pass through the curved porcelain channels and are used for connecting the whole system of your interlink types insulators.
By considering and comparing the strength of both cap and pin type suspension insulators and Hewlett insulators, we know interlink type in f suspension insulators is much more potent than the cap and pin type insulators. Mechanically interlink type insulators are preferred over cap and pin types just because of their strength. It is also considered better than the Cap and pin type because there are no chances of interruptions or any break-off in supplying power, even if any part of the system is not performing well.
The metallic connection between the systems is the reason for the smooth power supply without breaking. Parts of the system connected by conducting materials support the transmission line continuously, even if the problem occurs in porcelain used for making connections.
Along with its many valuable points, Hewlett or interlink type insulators have only one weakness or demerit, which is the breakage of porcelain between the connection of the whole system. The breakage or damage is caused due to its high electrical stress, and due to this reason, there are more chances of damage than the porcelain used in other types of insulators.
Cap And Pin Types Insulators:
Porcelain is used for constructing insulators. The material contacted with the porcelain for constructing Cap and pin types suspension insulators are galvanized forged steel pin and forged steel cap, which is a galvanized cast iron. Clevis pin connections, sockets, and ball combine the whole unit.
Read more: Fortnite headhunter.
FAQS:
Why are suspension types insulators preferred rather to other insulators?
Due to their flexibility and low costs, these insulators are preferred over others.
In which way the porcelain discs are connected?
Porcelain discs form a string in their series combination.
What are the types of suspension insulators?
Interlink type insulator
Cap and Pin type insulators